How SANCA started
Chuck Johnson has been fascinated by the circus since seeing a big top show with his grandparents. He is primarily self-taught and competed in gymnastics in high school. He formed the Cascade Youth Circus after noticing siblings of gymnastics students sittingin the bleachers. He loves that circus is so inclusive for all abilities and experience levels.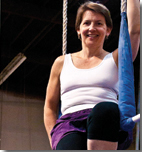 In 1999 Jo Montgomery was watching her daughter take gymnastics, remembering the fun she had on the gymnastics team during high school. One day a notice went up at the gym announcing a gymnastics class for adults, and Jo signed up. The class was taught by Chuck Johnson, and it quickly became an important part of Jo's week. She began to get back in shape (she was sore 6 days a week for the first month), felt like she was succeeding even by getting to class, and was having fun. Other students in the class included members of Circus Contraption, a new, edgy circus troupe on the Seattle scene.
Jo got to know these wonderful people, and learned that "circus" encompasses many styles and skill areas. She also realized that circus is athletic, but not competitive. In addition, it is not a team sport, but it creates community. Other students in that class included someone who had competed in Sports Acrobatics in high school, and taught Jo lots of acrobatics skills, and someone else who was about to enroll in circus school in Montreal- which Jo had never heard of until then.
Jo's "day job" as a Pediatric Nurse Practitioner at the Odessa Brown Clinic (a satellite of Seattle Children's Hospital) brings her into contact with children of varying income levels and fitness levels. In early 2003 she had an "aha" moment: why not create a circus school herein Seattle? And like Seattle Children's, there would be a scholarship program, so no child would be turned away for lack of ability to pay. She called Chuck, who was living in Portland by then, and told him about the idea. He said If she really started the school, he would teach classes, and that is how the school started.
9 months after this idea hatched they opened the school- January 10th, 2004. It was located at 624 South Lander, one of many small rooms in a warehouse. The space was 1100 square feet, with 23 foot ceilings. There was no heat, the bathroom was down the 'hall', where forklifts traveled, and the 'parking area' fit maybe 6 cars. what was thought to be an abandoned railroad track, 15 feet from the front door, was in fact still in use. SANCA opened with 5 enrolled students and 5 or 6 pieces of equipment. The trapeze was hung above the trampoline, heating happened-barely- with a propane heater, and if a student needed to use the restroom, the entire class trooped down the hall.
And still people came.
And came…
The SANCA timeline
[content_timeline id="1″]