Flying Trapeze
Boost your endorphins and have a blast!
It's Time to Fly!
Welcome to the SANCA School of Flight!
Join us at the Big Top Tent in Seattle's historic Georgetown neighborhood to experience the absolute thrill of flight. The most legendary act in the circus is now more accessible than ever. We offer single classes, a weekly open house, multiple class packages, session classes, parties, school field trips, team building events, etc. There has never been a better time to find your wings!
SANCA's School of Flight offers
One-time Flying Trapeze for Everyone Classes (Single Serving)
Weekly Session classes
Drop-in flying
Parties
Private Events
Flying Trapeze For Everyone
This is our standard 2-hour Flying Trapeze Class. It is open to flyers, new and old and of all skill levels, and is available to flyers ages 6+ as a single serving circus class. All instruction is personalized to each flyer's abilities to maximize individual progress.
Additional information:
May be booked using a class package (Swing Set)
These class time slots may be booked as a private party (if no single serving students are enrolled)
Minimum enrollment: 3 flyers
Prices:
$60: New Students

$50: Registered SANCA Students ($60 annual fee, $150 cap for families)

$47: 5-Class Package (available to registered students)

$44.50: 10-Class Package (available to registered students)

$39.75: 20-Class Package (available to registered students)
Pay-Per-Flight
Kick your weekend off with Pay-Per-Flight, a weekly open house from 6-8pm on Fridays. Pay-Per-Flight is open to flyers age 4+ and is just $10 for your first turn and $5 for each additional turn. Bring the whole family or bring the gang from work, then stay and explore historic Georgetown.

Additional information: 
Reservations are not permitted

Flyers will be added to the cue as they arrive
Minimum enrollment: No minimum enrollment
Price: $10: First turn on the flying trapeze; $5: Each subsequent turn

Multiple Class Packages
The School of Flight offers prepaid class packages called Swing Sets to members of the SANCA community! It is our way of rewarding registered SANCA students with the best deals on flying trapeze classes.
Additional information:
Can be purchased online by registered SANCA students

Can be used to reserve a spot in any non-session class.  
Price:
5-Class Package: $235 ($47 per class)

10-Class Package: $445 ($44.50 per class)

20-Class Package $795 ($39.75 per class)
Note:  Individual flyers can use their Swing Sets to purchase classes on multiple dates. If, however, you are booking a class for more than one SANCA member on a single Swing Set, you will need to make individual class reservations for each individual flyer.

Session Classes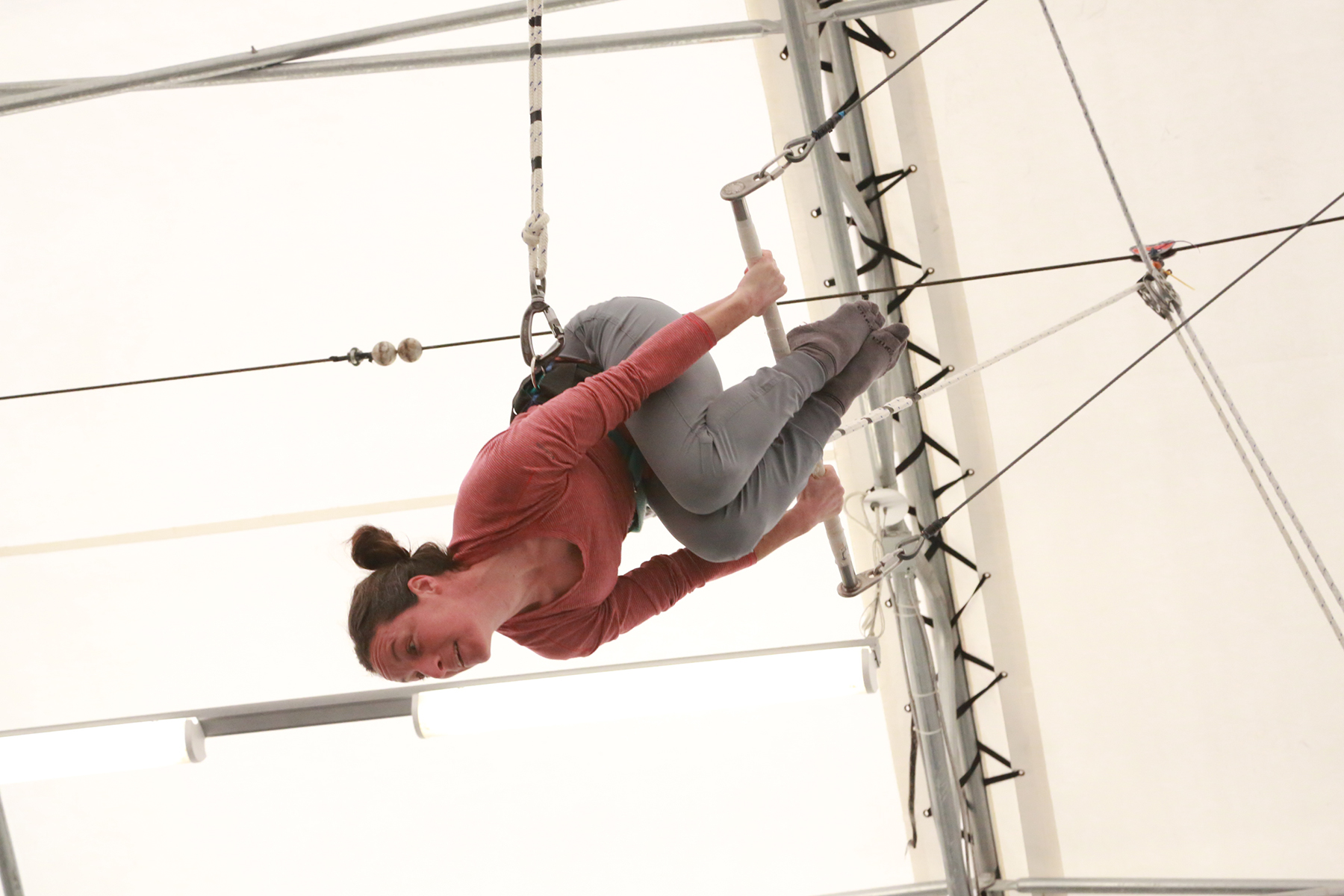 Session classes at the School of Flight are for students looking for a time to commit to finding their wings! Flyers will meet at the same time each week for a 2-hour class with the same three instructors. The coaches will provide consistent and personalized instruction, ensuring the best possible learning environment and the safest and quickest progression.
Class Options:
Youth All Levels Session: Students of all skill levels, ages 10-16

Youth Intermediate Session: Students working on a swing and beyond, ages 10-16

Youth Advanced Session: Students flying out of safety lines, ages 14-18

Adult All Levels Session: Students of all skill levels, ages 16+
Additional information:
Students can reserve their spot with the SANCA office during 4 annual enrollment periods.  
Minimum enrollment: 3 flyers
Price (our quarterly sessions range in length from 9 weeks to 14 weeks):
$480 for a 11 week session
$435 for a 10 week session
Youth Scholarships are available.

Private Parties
Flying Trapeze Parties are a great way to celebrate any special occasion! Our parties are great for birthdays, family reunions, bachelor/bachelorette parties, or just for an excuse to get together with friends. No experience is necessary to enjoy the thrill of our flying trapeze parties!
Additional information:
May be booked online

Parties can accommodate 10-12 flyers ages 4+

If you wish to bring a larger group to the tent, select the Unlimited Flyers option.

For info on booking parties outside of our regular schedule, see Special Events below.

A t-shirt for the guest of honor is included in the price of the party.

Party favors are available for an additional cost.
Minimum enrollment: 1 flyer
Price:
$500 for a 2 hour Flying Trapeze Party

$700 for a Flying Trapeze Party with Unlimited Flyers

$3 each for Basic Party Favor package

$6 each for Deluxe Favor package

$12 each for additional t-shirts
Special Events
Have you looked through our schedule and don't see anything that fits your needs? We would love to hear from you so that we can work together to put your ideal event together.
Want to combine general circus activities with a flying trapeze session? We would love to hear from you.
Are you interested in creating an integrated team building event for your company that includes circus, meeting time, and lunch? We look forward to helping you plan it. Email events@sancaseattle.org to get started!

FAQs
Who can participate? Anyone who has ever dreamed of flying on the trapeze.
How do I sign up? Super simple, go to our bookeo page, choose your date
Age, weight restrictions: You must be at least 6 years old to take a regular 2-hr class, but ages 4 and up can fly on Friday afternoon at our Pay Per Flight session and at private Flying Trapeze Parties. There is no upper age limit. Our maximum flyer weight is 225lbs.
Do I have to be in good shape? No, you do not have to be in good shape to participate, especially at the basic level. But you might find that trapeze inspires you to get in better shape.
What do I wear? You should wear comfortable athletic clothing that allows you to move freely, but nothing too baggy. Many people wear yoga pants or leggings, running tights, or anything that won't bunch up behind your knees. Also, be sure to wear or bring socks.
Do I need to bring anything with me? Besides a spirit of adventure and the willingness to try something out of the ordinary, you should bring along a water bottle (drinking water is provided)