About the Troupe
Founded in 2006, Cirrus Circus (formerly the Youth Performance Company) is known throughout Seattle as one of the most accomplished circus troupes in the region. It is a year round comprehensive circus program which gives experienced students an opportunity to train intensively multiple times a week in a supportive, group-oriented environment.
Cirrus Circus offers students many diverse opportunities to showcase their performance skills. The troupe performs year round in SANCA circus shows and around the city of Seattle, and has one annual full length production. Cirrus also attends the AYCO (American Youth Circus Organization) Festival every other summer.
In July 2014, Cirrus Circus had the honor of performing at the London International Youth Circus Festival in England, at No Fit State in Cardiff, Wales and Island Circus in Sylt, Germany.
Performers in the audition-only group utilize a variety of disciplines, including acrobatics, aerial, juggling, tightwire, unicycle and more.
How to Apply
Who can audition and how do you apply?
Students of intermediate/advanced circus skills (students who have been advanced to a level 2 class in at least a general circus class or one or two different specialty classes) may fill out an online application before March 3rd, 2019. Applicants will receive an email invitation to the auditions.
When will the auditions be held?
March 16th, 2019 4:00 – 7:00pm (new members will join April 16th)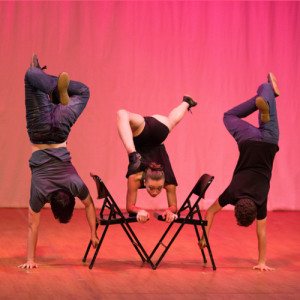 What does a student need for the audition?
A good attitude, team mentality, intermediate to advanced skills, and a two-minute audition piece on a student's apparatus of choice.
What should a student expect in an audition?
Auditions are a 2-1/2 to 3-hour process during which students will be asked to demonstrate their skills in a variety of circus arts as well as show a 2-minute act on their apparatus of the student's choice.
"For me, anything that has to do with collaboration, circus has definitely helped. You have to practice with people and agree on everything. It has made me more patient working with other people."
– Sam Wilk, Cirrus Circus 2018 graduate