Discover the Power of Circus
and the power of you
Transformational Women's Circus
Transformational Women's Circus (TWC) is an integrative social circus program which incorporates circus arts, drama therapy and therapeutic group process to support the personal growth of students who wish to explore their physical and mental health in a supportive, creative, safe group environment. Students in the TWC program will meet for 21 classes, once a week for three hours over a 24 week period and engage in trauma informed group work and circus arts training, with a creative culminating event at the end of the quarter. TWC is rooted in social circus and focuses on self awareness, self esteem building, creative expression, and exploring personal story.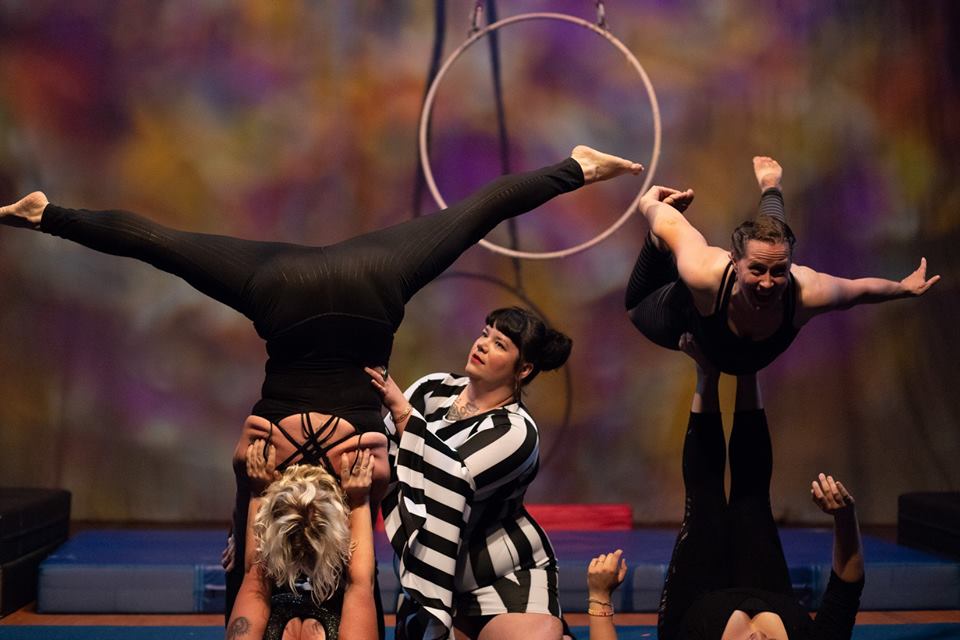 TWC begins in late winter and continues through spring each year.
Applications are accepted each fall.
This project was created by and will be led by Amber Parker.
Questions? Email: twc@sancaseattle.org
Criteria for joining the TWC Project
To join TWC, you do not need to have a background in circus arts or theatre, nor do you need to have experience in physical activity, just a willingness to engage in these activities for the duration of the program. We are seeking a variety of abilities, ages, sizes, cultures, gender expressions and ethnicities. However, there are some criteria each applicant must meet to join:
You identify as a woman, trans woman, or femme and are over 21 years old
You have a desire to improve your overall wellbeing and mental health
You are willing and able to commit to an intensive 24 week program
You are found to be safe and appropriate for intensive, therapeutically focused group work through an assessment with SANCA's social circus clinical coordinator and TWC lead facilitator, Amber Parker.
Schedule of classes
Sunday January 6 – Sunday June 16;  3:30-6:30 p.m.
(No class 2/17, 4/7, 5/26)
Creative Culminating Event: June 9th;  Last class: June 16th
Tuition – $1365. Payment plans are available.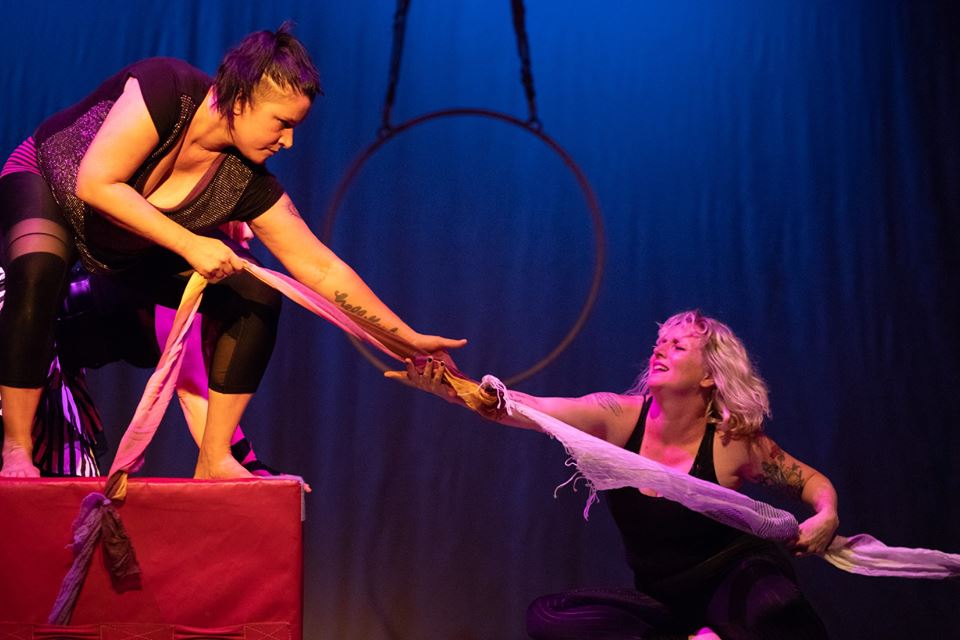 TWC Staff
Sarah Wells: Stage Manager, Arts Facilitator 
Sarah Wells-Ikeda is a creatrix, community-builder, and connecting force. Her passionate pursuit of life and learning has recently landed her in Seattle after a decade in the San Francisco Bay Area, where she was initially introduced to circus and clown during her years with the neo-vaudevillian trickster brigade Fou Fou Ha! Born into the world deeply connected to nature and spirit, Sarah has chased her dreams and passions to create an ever-unfolding life full of meaning and magic. She holds a M.A. from the Institute of Transpersonal Psychology focused on women's connection to spirituality through the body, with a specialization in creative expression.
She is deeply excited to expand her life's work and service through the social circus coaching role at SANCA, and as the production manager and creative co-facilitator of the Transformational Women's Circus. She believes in the inherent power of women and girls, connected to source through our bodies, lived experiences and inner wisdom. She looks forward to supporting the TWC through forging meaningful connections, imbuing life with the sacred, facilitating play as spiritual practice, and leading a vast array of creative expression modalities, helping the participants to identify strengths, build community, and thrive.  
Emma Curtiss: Circus Coach, Body Worker 
Emma Curtis discovered Circus in 2009 after seeing a moving performance by two local trapeze artists. Inspired by their emotional performance, she felt compelled to explore the world of circus, despite the fact that she was not a physical person at the time. Over the next few years she discovered pieces of herself that had been hidden for most of her life and through constant physical and emotional challenges, emerged with the renewed purpose that performing and teaching Circus was her true calling. She has performed with various companies and developed her own performance troupe, IMPulse Circus Collective, where she was able to develop shows with like-minded artists who shared her passion for creation. Currently she is a coach at SANCA where she continues to groom new skills and projects for herself as well as her students. Her disciplines include Aerial Silks, Aerial Hoop, Cyr Wheel, Fan Juggling and a general enthusiasm for all things Circus.
Amber Parker: Lead Facilitator, Group Therapist 
Amber Parker is SANCA's Social Circus Clinical Coordinator and the creator and lead facilitator for the Transformational Women's Circus Project. Amber is a therapeutic circus coach and circus artist at The School of Acrobatics and New Circus Arts, a Master's in Couple and Family Therapy Candidate and Master's in Drama Therapy, and she is currently a clinician with the Child, Youth and Family program at Navos, a community mental health agency based in Southwest King County. Amber specializes in working with women and children in recovery from trauma and is currently adapting social circus as a trauma informed creative arts therapy for adults through the Transformational Women's Circus Project. Amber has presented her work at the 2016 American Circus Educators Conference, at The Smithsonian's 2017 Folk Life Festival, and has been published in American Circus Educators Magazine and Seattle Magazine. Amber has over 14 years of experience as a counselor, facilitator, and trauma worker, and she has advanced training and education in Motivational Interviewing, Trauma Focused Cognitive Behavioral Therapy, Child Centered Play Therapy, Drama Therapy, Psychodrama, and Clinical Psychotherapy.
Student thoughts
Shannon says,
"The emotional piece really comes in when we talk about how the trapeze represents life. I keep going back to that. When I go through something emotionally difficult, I now ask myself, 'How is this problem like the trapeze?' And I always find a connection. So, now, I ask myself- how would I deal with this if I were on the trapeze? How do I overcome it? How do I work with it, accept it, embrace it? How do I evolve?"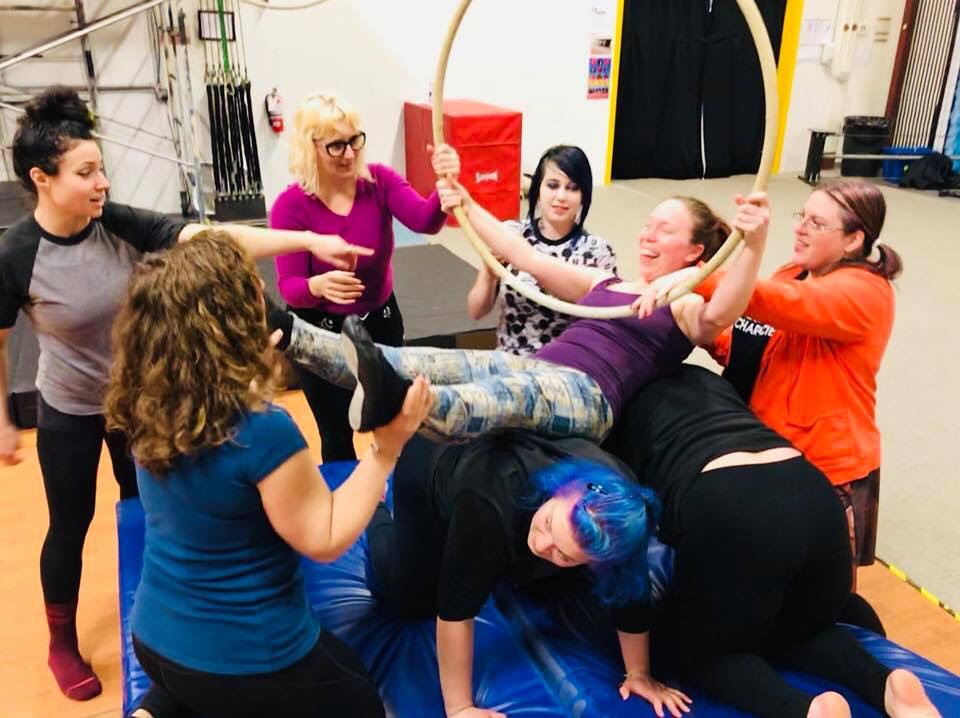 Cassidy says,
"Today I wasn't very motivated to do anything athletic or fun at all, but just coming here and being in this environment, messing around and playing, all of a sudden we're moving and learning skills and having fun. It's contagious. Just being around everyone here is inspiring; no matter what they're doing. I've never experienced any stress or discomfort here, so my body just goes into a state of feeling safe and comfortable. I felt awful when I got here, I felt really depressed and bummed out, but now I feel really good."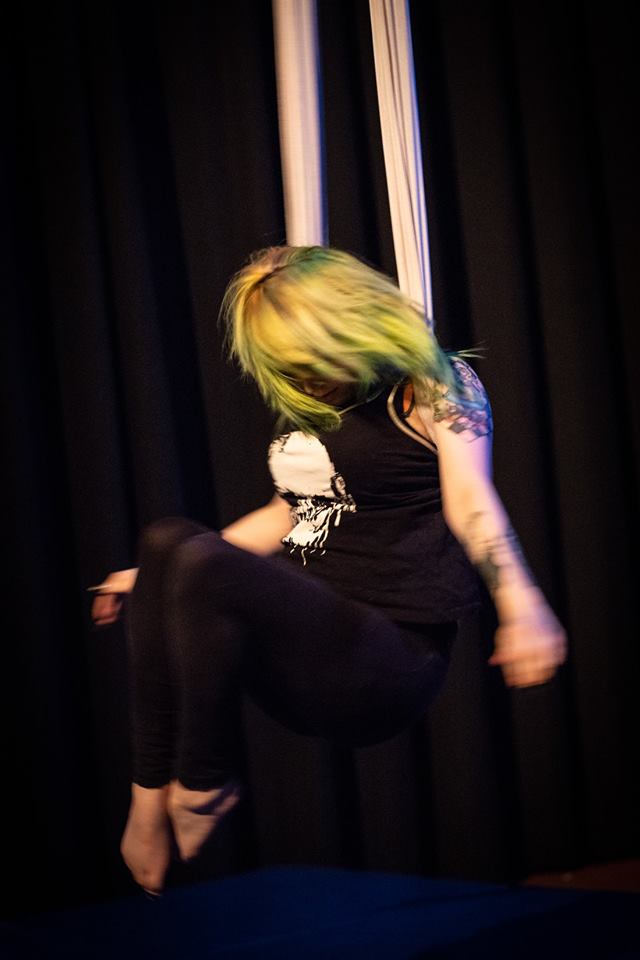 "My ultimate goal for this program, beyond exploring how Drama Therapy can be applied in a circus context, is for the women of TWC to attain a greater level of self-awareness, self-efficacy, and self-acceptance. So far, this is what I am seeing happening within each student. Their growth, as a group and as individuals, has been incredible."
– Amber Parker