PURCHASE TICKETS
Three options:
VIP Tables seat six guests and are located with best views in the house! Your VIP Table purchase includes two bottles of wine.
> Purchase Balcony Tables here <
Balcony tables seat two guests and are a great option if you prefer to be separated from the crowd. They are also a chance to see the show from a completely different perspective, from above!
> Purchase Individual Tickets here <
Ticket prices will go up on August 13, so we recommend that you purchase your Twist tickets by August 12!
---
Menu
Table-side Cocktail Hour:
Northwest Grazing Board
featuring:
Assorted European cheeses
Rosettes of house-cured meats
Seasonal fresh fruit
Vanilla-chipotle spice pecans
Herb marinated olives
Housemade tapenades
Pike Place Market pickled vegetables
and rosemary cracker bread
Elegant Summer Dinner:
First Course
-Savory Melon Gazpacho Soup, Lemongrass Poached Prawns and Candied Jalapeños
Second Course
-Black pepper and thyme crusted chicken breast + Pike Place Market vegetables + polenta corn cakes
OR
-creamy rosemary polenta with Sicilian eggplant caponata with golden raisins and toasted pine nuts (Vegan, Gluten Free) + warm quinoa salad with shaved Brussel sprouts, spiced chickpeas, dried cranberries and apples + Pike Place Market vegetables
Dessert (pre-set)
Sweet Dreams Tidbit Box
(take home or enjoy at show)
-Handcrafted French Macaroons
-Triple Chocolate Truffles
-Coconut Haystacks
---
What is Up With a Twist?
Up With a Twist is SANCA's annual circus spectacular gala event! The fund raising dinner and show features fabulous circus performances from guest artists and SANCA's Youth Performance Companies. Due to the COVID-19 pandemic, this year's gala was moved from February to August 2021.
The event raises funds to support SANCA's work and programs that serve the whole of our community. Our social circus programs have been suspended due to the pandemic, so Twist this year will help SANCA raise funds to rebuild the program which provides circus to typically underserved populations, including those who cannot afford classes. This includes Every Body's Circus (EBC), the new BIPOC Youth Scholarship, outreach into nearby communities, and more.
Up With A Twist – BLOSSOM, A Circus Odyssey
Join Dr Eugenio Phalenopsis and his crew as they search for rare botanical species in the deepest jungles and bring back seeds of undiscovered flora to sprout in the laboratory. 
What great treasures will they find? What seeds of new beginnings? What seeds are in all of us that need to be watered, nurtured and sprouted? What is in the garden of our hearts?

Come join us August 28th at ECTA for SANCA's Summer fund and friend raiser "Up With A Twist", as we come together to celebrate the power of circus to strengthen, open and free our imaginations.

We can't wait to see you there.
Our fabulous guest artists!
Seattle Tricking Co-op, Deon Fox, & Emma Curtiss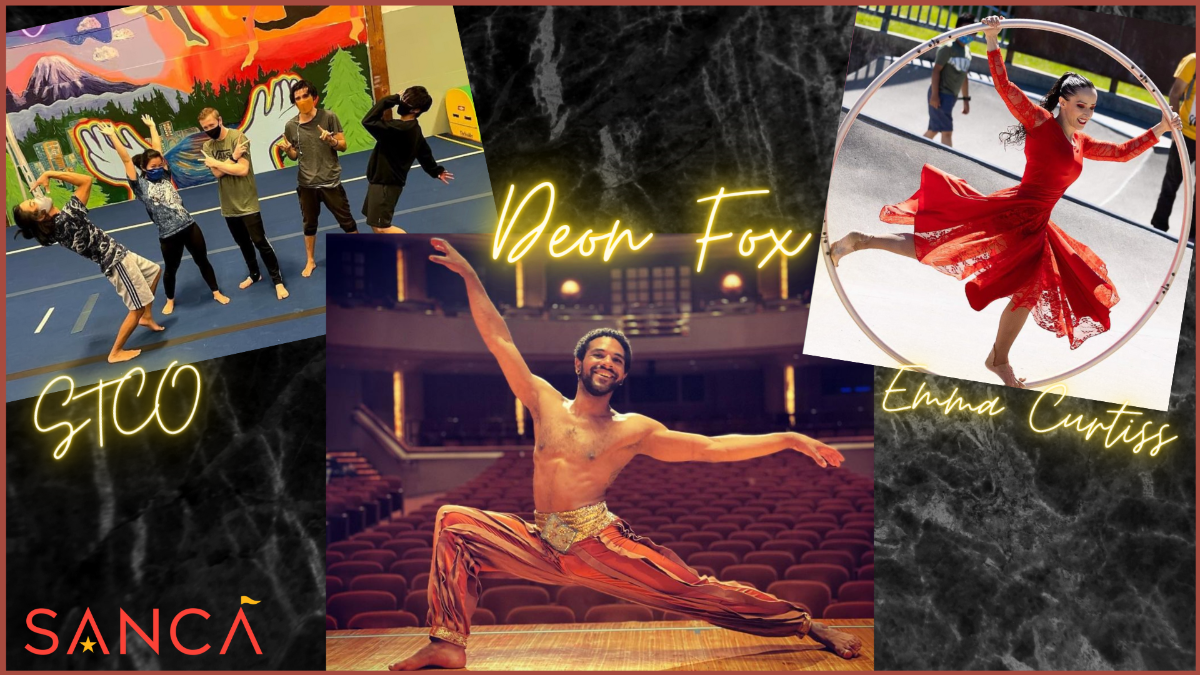 Help Us Spread the Word! — Up With a Twist is largely driven by word-of-mouth promotion, and we need your help! Spreading the word on social media can help us meet our goal. Link to, Share, and Like our posts on all the following:
Use this tag: #sancaseattle
Thanks to Emerald City Trapeze Arts, our venue host!
Thank You for helping to make SANCA's return to performance a success!!!