SANCA's Facilities
So much happens here
The Main Gym
When SANCA moved to the current location back in 2006, the main gym (with front office, upstairs, and tot room) was the entirety of the organization.
This space originally housed all circus apparatuses: aerial equipment, tumbling floor, trampolines, tight wires, rolling globes, mini tramp, and more.
Now, as we have two additional spaces, the main gym contains: Cubbies for student belongings, 4 aerial points dedicated for classes, a Chinese pole, Spring floor for warm ups and tumbling and acrobatics (with safety lines), 20′ Tumbl Trak,  & more
The South Annex
The South Annex was the first addition to our main space. With its existing balcony and upstairs offices it was a natural choice for a theatre space. A air-sprung Marley floor was added so that dance and Cyr wheel could be practiced. This space now has 8 aerial points as well.
SANCA School of Flight
Built in 2009, the School of Flight fly tent is a magical escape from gravity. Whether you join us in a class or come to a fly show, a visit to the fly tent will leave you smiling.
Circus & Flying Trapeze Party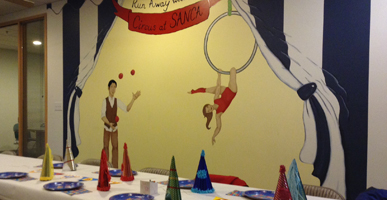 You can celebrate your next big event at SANCA with a circus or flying trapeze party. The circus parties are in our gyms and flying trapeze parties in our tent.