Youth Performance Troupes
Taking circus and performance skills to the stage
A Unique Arts Experience for Youth in Circus
SANCA's Youth Performance Program is an immersive, multiyear arts program that gives youth ages 5 to 8, 8 to 12, and 12 to 18 a unique arts experience and a progressive track to develop performance skills based on traditional and modern circus arts. They create and perform original acts at major festivals in Seattle such as Moisture Festival and Seattle Center's Winterfest, and they produce their own show each year. The program includes three troupes: the Amazing Circus 1-ders (ages 5 to 8), the Magnificent 7 (ages 8 to 12), and Cirrus Circus (ages 12 to 18)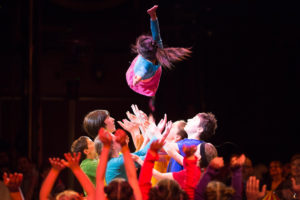 Participants in the program learn the necessary skills to perform circus, dance, and movement, both solo and with others in a safe, supportive and nurturing environment that provides both challenge and reward to the student. Youth are trained in:
·  Acrobatic arts (tumbling, partner balancing, human pyramids)
·  Object manipulation and balancing (juggling balls, rings, and clubs, plate spinning, diabolo, walking globe, tightrope, unicycle)
·  Aerial arts (trapeze, aerial rope, fabric, hoop)
After completing the Performance Program by 18 years of age, each student has the tools needed to create  quality acts. Several participants have become mentors to other young artists, performed with Cirkus Smirkus tours on the East Coast, or gone on to adult professional training programs such as L'Ecole de Cirque de Quebec and L'Ecole Nationale de Cirque in Canada.
Youth performers may be booked for your next event! We perform at school events, community festivals, half time shows, auctions, galas, receptions and more. Stage shows and/or ambient "walk about" entertainment is possible.  Complete an inquiry form here to get started!
The Eloise H. Mathews Youth Performance Scholarship Fund
Eloise H. Mathews believed in people following their dreams. Each of her seven children have had different hobbies and goals and she supported each of them in all they chose to do. Three of her children have been heavily involved in the circus community and specifically SANCA. Her daughter Crystal is the founding director of SANCA's Cirrus Circus (formerly the Youth Performance Company).  Her son Steven was a member of the original Youth Performance Company. He began his circus training when he was 5 years old. He stayed in the performance company until he graduated in 2015. Daughter Katie has been a backstage volunteer at many of her siblings' shows and started working at SANCA as a facilities assistant in 2016. Throughout all of her children's circus careers, beginning 19 years ago, Eloise supported and cheered them on. She attended every performance and many practices. She was a dedicated and tireless volunteer for the Youth Company shows, and even produced two circus benefit shows, which were in actuality SANCA's first two performances, giving some well-known circus performers their first professional performance gigs. Eloise believed that people could accomplish anything if they tried hard enough and she showed that through her constant support of the circus community in Seattle.
The Eloise H Mathews Youth Performance Scholarship Fund makes it possible for youth to participate in SANCA's youth performance programs regardless of ability to pay, and is dedicated to her memory.
"The SANCA Youth Performance Company [now known as Cirrus Circus] has given me the confidence and the support that made me who I am today. Youth Company has touched my life and I, in turn, hope that through performance I can touch the lives of others around me."
— Anna Partridge, Youth Company Charter Member