Discover the Power of Circus
and the power of you
Transformational Women's Circus
Transformational Women's Circus (TWC) is an integrative pilot program which utilizes circus arts, group drama therapy, performance, and social science research to support the mental health and trauma recovery of its students, expand the social circus programming at SANCA, and contribute to the scholarship of multidisciplinary studies, including drama therapy, trauma recovery, social circus, and mental health therapy.
Participants of TWC will meet once a week for three hours over a 20-24 week period and engage in trauma informed drama therapy and circus arts training, with a cumulative performance at the end of the quarter. TWC is rooted in theory and research regarding social circus, trauma recovery, neuroscience, and expressive arts therapy. Thus, this project can be understood in several ways: As a new dimension of social circus, as a re-contextualization of drama therapy, somatic therapy or group therapy, and as an innovative approach to trauma recovery.
Enrollment is full for current session.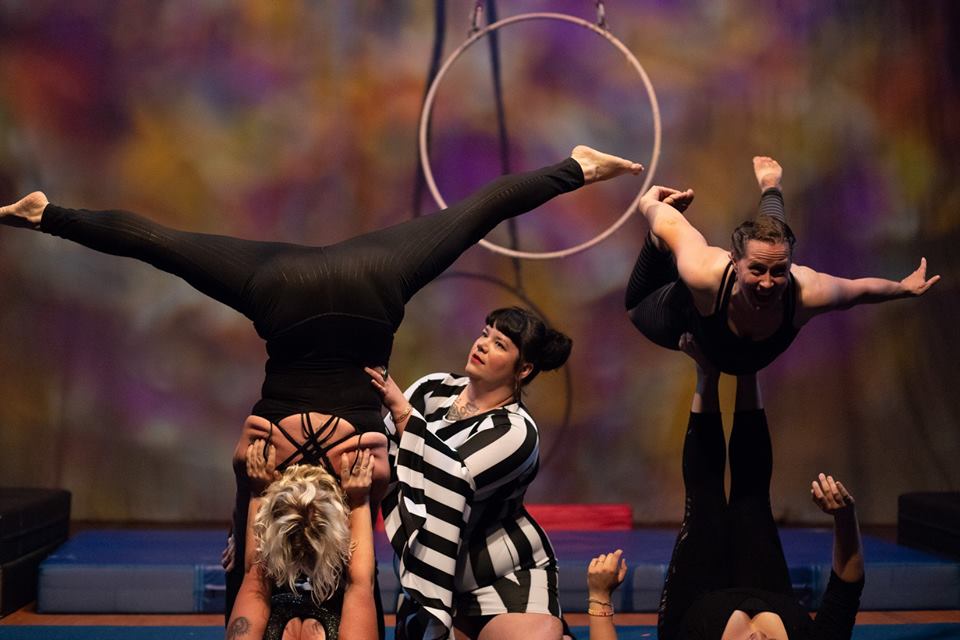 Student thoughts
Shannon says,
"The emotional piece really comes in when we talk about how the trapeze represents life. I keep going back to that. When I go through something emotionally difficult, I now ask myself, 'How is this problem like the trapeze?' And I always find a connection. So, now, I ask myself- how would I deal with this if I were on the trapeze? How do I overcome it? How do I work with it, accept it, embrace it? How do I evolve?"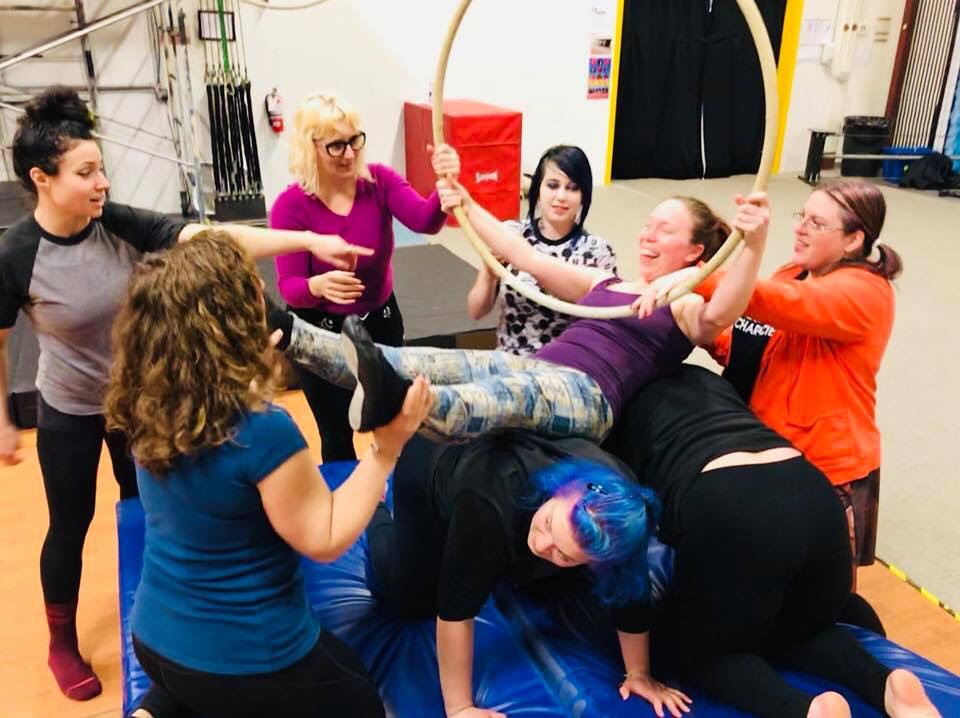 Cassidy says,
"Today I wasn't very motivated to do anything athletic or fun at all, but just coming here and being in this environment, messing around and playing, all of a sudden we're moving and learning skills and having fun. It's contagious. Just being around everyone here is inspiring; no matter what they're doing. I've never experienced any stress or discomfort here, so my body just goes into a state of feeling safe and comfortable. I felt awful when I got here, I felt really depressed and bummed out, but now I feel really good."
Program Details
Criteria for joining the TWC Project
To join TWC, you do not need to have a background in circus arts or theatre, nor do you need to be an elite athlete. We are seeking a variety of abilities, ages, sizes, cultures, and ethnicities. However, there are some criteria each applicant must meet to join:
You identify as a woman and are over 21 years old
You have a history of depression, anxiety, or other mood related issues
Your life has been impacted by being a survivor of child abuse, domestic violence or other traumatic life events
You are willing and able to commit to an intensive 20-24 week program
You have some recovery time, you are not actively suicidal or chemically dependent
This project was created by and will be led by Amber Parker, with artistic supervision by SANCA's Social Circus Director, Ian Jagel.
Questions? Email: twc@sancaseattle.org
including Staff and Frequently Asked Questions can be found here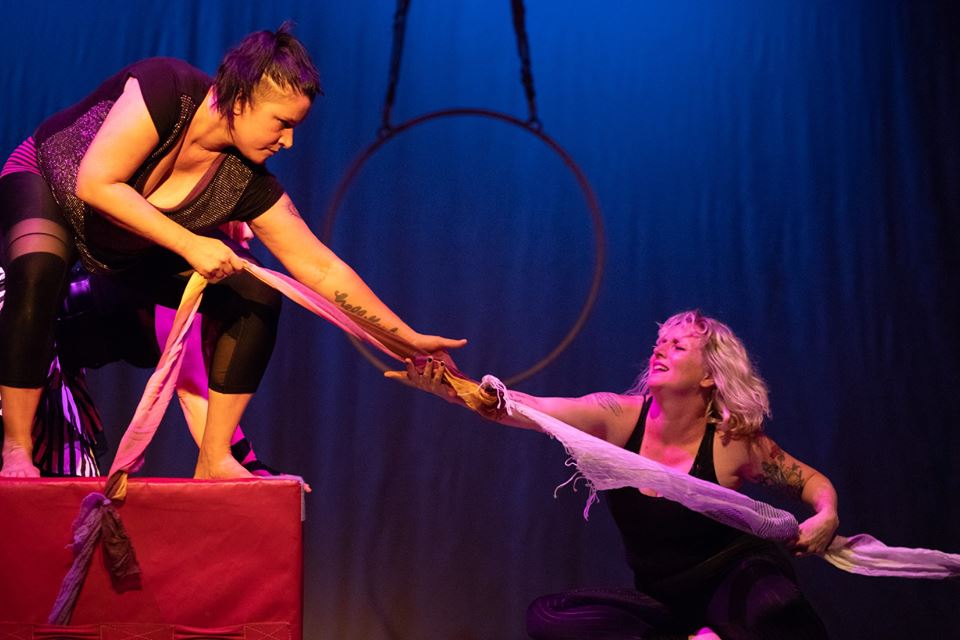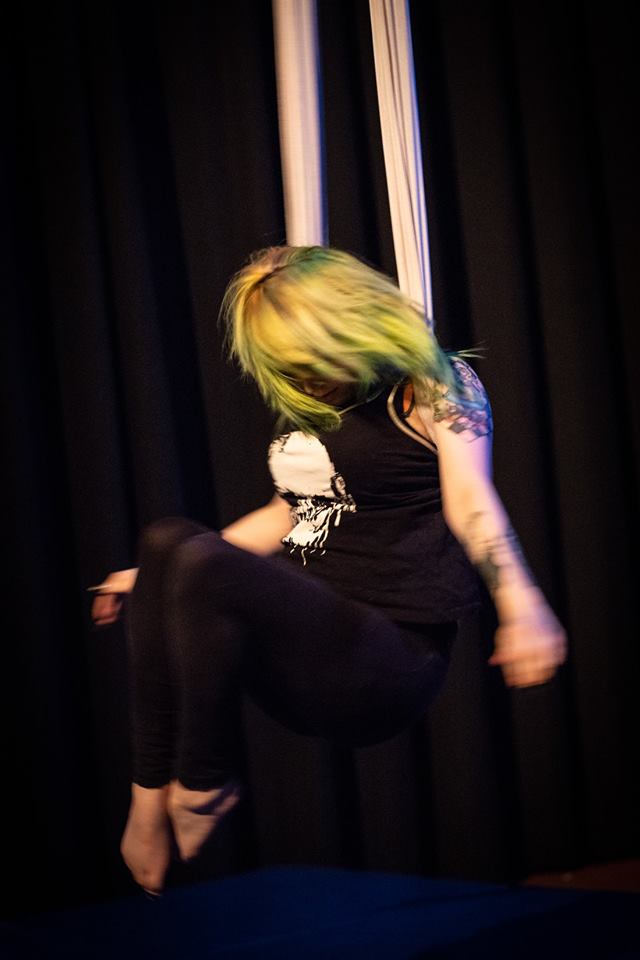 "My ultimate goal for this program, beyond exploring how Drama Therapy can be applied in a circus context, is for the women of TWC to attain a greater level of self-awareness, self-efficacy, and self-acceptance. So far, this is what I am seeing happening within each student. Their growth, as a group and as individuals, has been incredible."
– Amber Parker