SANCA Policies
Important information you should know about being in our circus
The following policies are NEW and in effect for the 2020 Fall Session. These are considered temporary policies specific to operation during the COVID pandemic.
Fall Session Enrollment Policies
Open Enrollment is accessible to everyone who wants to enroll in SANCA classes.
There is no Priority Enrollment period for 2020 Fall Session
Enrollment pre-requisites, such as age, skill, or height, are in place to keep our students learning, staying safe, and having fun.

We are unable to allow students into classes not in the students' age group.
Our classes have age ranges in consideration of stages of learning and growth. A student with an upcoming birthday during the enrollment period may enroll into a class for the next age level.
Class capacity is set in consideration of childhood ages and development stages, equipment, and spatial requirements of the skills being taught.

The class minimum of three paying students must be met. If the minimum is not met 48 hours in advance of the class, that class will be cancelled. Students will be informed of the cancellation by email.
Tuition and Payment Policies
Tuition
Review the session schedule to find the tuition amount for each class. The tuition listed is for a single class. If you wish to sign up for multiple weeks, the price will be the tuition fee times the number of enrolled classes.
There is no registration fee; this has been removed from SANCA payment policy.
Payments
Tuition is due at the time of enrollment.
Payment for classes can be accepted online, in person, or over the phone.
We accept all major credit cards, checks, and cash.
For 2020 Fall Session, payment plans may be offered as long as all enrolled classes are paid in full in advance.
---
Youth Scholarship Program
SANCA is proud to offer scholarships to families in need of financial assistance for students aged 2-18 or until the scholarship applicant has completed high school. We rely on the honesty of our families to determine the amount of financial aid each student receives and expect families to pay a portion of the tuition if they are able. Payment plans are an option to anyone regardless of financial need; ask in the office if you would like to set up a payment plan.
For 2020 Fall Session, due to the rising costs of business and the limit on class size associated with the COVID pandemic, SANCA must place a cap on the number of scholarships it can offer. Scholarships are available on a first-come, first-served basis for this session. SANCA has allocated 10% of its available space in classes for scholarships.
If a student does not receive a requested scholarship for the 2020 Fall Session, that student will be placed on the priority list for a scholarship in the 2021 Winter Session.
We are offering partial scholarships during the 2020 Fall Session at levels of 25%, 50%, 75%, and 95% of the full tuition price. To apply for a scholarship for your student, complete this form before you enroll in classes at SANCA.

---
Work Study
During the COVID pandemic, SANCA needs your help! If you are able to help with cleaning and disinfecting duties during 2020 Fall Session, you may be eligible for a reduced tuition rate.
The Work Study Program is for adult students who otherwise are unable to attend classes due to financial costs. To participate in the Work Study program a student must still pay a portion of enrollment (25%) for the first class but may request to pay 10% of tuition for a second or third class in 2020 Fall Session.
If you are interested in participating in this program, ask the office for a Work Study Program application. There are a limited amount of spaces available within the Work Study Program and to participate you must have been at student at SANCA for at least one whole session. When spots do become available, they are released on a first come, first served basis.
Cancellation & Refund Policies
SANCA 2020 Fall Session Class Refund Policy: NO REFUNDS
For the 2020 Fall Session, all classes are single-serve classes held on a weekly basis. There is no requirement to attend every class each week. There is no requirement on the part of students to sign up or pay for more than one class at a time.
Given these special circumstances, there will be NO REFUNDS or in-house credit offered to students when they cancel their enrollment in a class or miss a class.
Please only sign up for classes that you are certain you will attend.
Why have we changed our refund policy temporarily? While SANCA has been very generous with its refund policy in the past, during COVID we have been operating at about 15% of pre-COVID operation. The total number of classes is greatly reduced. Our costs for our building, insurance, utilities, equipment, and other expenses remain mostly the same as they were pre-COVID, and other costs for cleaning (supplies and staffing) have increased considerably.
If SANCA must cancel a class for any reason, students will be issued an in-house credit for the cancelled class.
Discounts
During the 2020 Fall Session, SANCA is providing limited discounts.

There is an Early Bird Discount of 10%. If you register by September 9, 2020, you'll receive 10% off your entire enrollment order (including family members in the same household), when purchased all at once.
There is a discount for purchasing 12 classes or more in a single order. You'll receive 5% off your entire enrollment order (can be added to the Early Bird Discount).
Participating at SANCA
COVID Policies
Please read SANCA's COVID Health & Safety Policy for policies related to helping reduce the spread of the COVID virus.
SANCA students must agree to follow the directives of SANCA coaches and staff at all times when on SANCA's property. This includes any directive even if not specifically included in any of our written policies. Any SANCA student who does not follow the directives of SANCA coaches and/or staff may be expelled from class and asked to leave the facility. This is for the safety of all SANCA students and staff.
---
Arriving for Class
Students should arrive 5-10 minutes prior to their class to ensure that they are hydrated, appropriately dressed, and in the right mindset to begin their circus experience.
To help us reduce the number of people entering the building at the same time, please do not arrive more than ten minutes in advance of your class.
Coaches at SANCA work to help all their students achieve the goals of a class. To do this, we ask that students follow basic guidelines and rules set for class.
---
Communicating with SANCA Staff while they are coaching
In order to maintain physical and emotional safety for the students, students and parents must respect the coaches while they are doing their job. To do this, please be aware when asking for a coach's attention if they are currently spotting or keeping a child/adult physically safe. In general, please do not give coaches feedback about their teaching during their class unless you see something that urgently needs attention around safety. It can undermine a student's sense of emotional safety if their coach is being questioned during the class.
If you have any issues with a coach that you do not feel comfortable talking to them directly about after class, please follow the Student Communication Path below. Thank you for keeping yourself, the coaches and our other students safe!
---
Tardiness
Due to the progressions planned for class and for the safety of the student, a student cannot join the class after the first 10 minutes of class have passed.  It is important for every student to participate in the warm up section of class to ensure that they are prepared for circus movement.
---
Absences
Please inform the office of any absences, whether planned or unplanned. The office may communicate what we have to offer you given your missed time.
---
Conduct
Work hard, play safe, and have fun! Our SANCA agreements are fundamental ideas and at the heart of our community. To help facilitate those three ideas we have conduct expectations for students:
Students are expected to follow the instruction of the coaches at all times.
Students MUST follow the safety rules. A student who cannot will be asked to take a break from attending circus class until they are able to follow the rules.
Students must stay with their class, using the equipment and participating in the activity chosen by the coach.
Students may not use equipment without direct supervision or coach approval.
SANCA has a firm no bullying policy. If you, a fellow student, or your child is being bullied refer to the escalation path to see how to resolve this issue. If the bullying cannot be resolved, SANCA reserves the right to ask the offending student to leave class, and further may be expelled from SANCA.
No gum or food in the gym.
No cell phones or other personal digital devices allowed in class.
No glass beverage containers in the gym.
Students must treat the facility, staff, peers and equipment with respect. For students not following our conduct and safety guidelines, SANCA reserves the right to enforce disciplinary measures up to suspension or expulsion.
---
Attire
Students who come to class without their circus attire will be asked to change their clothes.  SANCA may lend clean circus-appropriate clothing to the students when necessary. Please return this clothing to the front office at the end of your class.
Students are very active in class and frequently upside-down. Please make sure that students are wearing appropriate athletic attire, including underclothes, clothes that are not too baggy, a shirt that can tuck in; attire that will not expose them as they move.
Skirts and dresses also interfere with many circus skills and are strongly discouraged.
ABSOLUTELY NO zippers or buckles on clothing. They catch on aerial, trampoline and other equipment. These can be dangerous to the student and damaging to equipment.
No degrading or profane messages on clothing.
Students may go barefoot or wear socks. Please have clean feet and/or clean socks.
Shoulder-length hair must be tied back.
No necklaces, rings, or other dangling body jewelry.
Attire should be clean and odor free.
Some classes have special footwear or other attire requirements. Please ask your coach if you need help picking out apparel from the front office that is appropriate for your class.
Chinese pole: Students taking a pole class are asked to wear jeans and flat, rubber-soled non-street shoes.
German wheel: Students needs clothes that aren't baggy, closed-toed lace-up shoes that are not bulky. (converse or bushidos are great)
Aerial: Students need clothes that aren't baggy and cover the back of the knees.
Unicycle: Students should wear closed-toed, lace-up shoes.
Tightwire: Students should wear socks or full soled ballet slippers.
Flying Trapeze: Flying Trapeze students should follow the general attire guidelines. Additionally, flyers should bring socks to class and wear pants that cover the backs of their knees.
---
Injury and Wellness
If a student shows any symptoms of sickness that may or may not be related to COVID, they will not be permitted to enter SANCA. There will be no exceptions.
No students should attend class with untreated pink eye, fever, vomiting or diarrhea, any wet or open rashes or sores, or if you think s/he might have croup.
Please cover warts with tape or a band-aid.
Children exposed to chickenpox should not attend class for 21 days after the child's exposure, to avoid potentially exposing others.
Children exposed to head lice may rejoin class after it is determined that they do not have lice.
If an injury occurs during class, it may be advised that the student sit out for the remaining time of class. Depending on the severity of injury, a student may need a doctor's note to return to class.
If you sustain an injury either in or out of class that requires a visit to the doctor we would like you to have a doctor's note upon returning to class. Please present the doctor's note to the office prior to the start of class.
Families of SANCA students, while they are in class
Waiting Room
There is no Waiting Room at SANCA for 2020 Fall Session. Parents, guardians, and others supporting students must wait outside of SANCA until it is time to pick up their student. Only SANCA students and staff will be permitted entry into SANCA's facility.
Parents, guardians, and/or others who are making payment or other arrangements may enter the Front Office only to conduct business. They will not be permitted entry to the gym.
This is a COVID policy.
---
Pet Policy & Etiquette
During the 2020 Fall Session, no pets are permitted in the building.
Communication Path
As SANCA's community to continues to grow, regulating and mediating actions are necessary to keep things fair for all parties involved. If you have a concern and are confused about who to talk to, please refer to the chart below.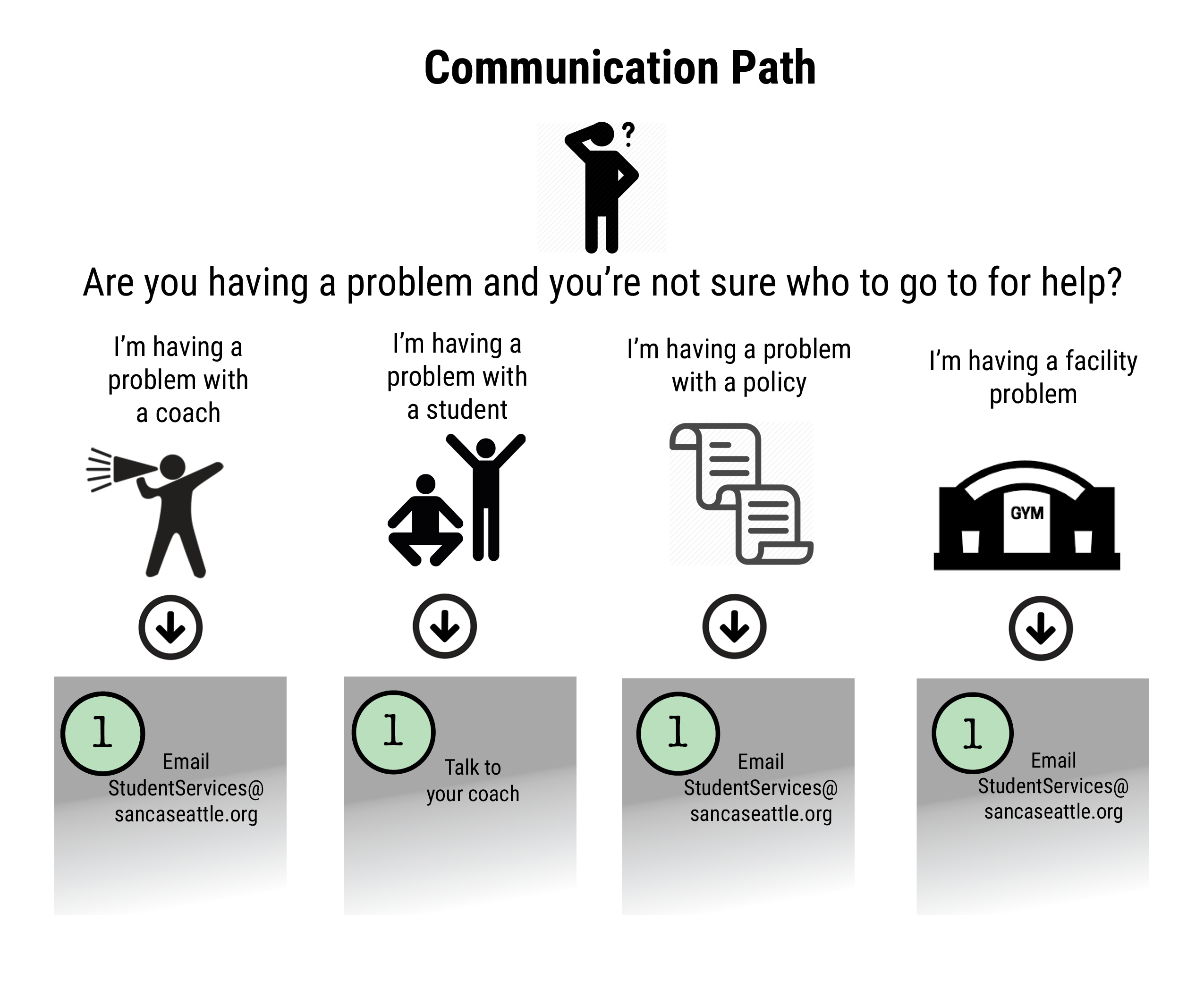 SANCA reserves the right to change these policies, with or without notice, at its sole discretion at any time.